Natural Orange DS (Quart) by Newline | Solvent Booster and Carpet Spotter
NI-NOQT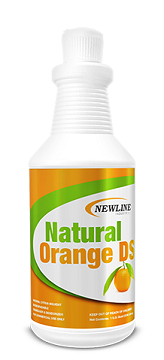 NATURAL ORANGE DS | PREMIUM SOLVENT BOOSTER
NATURAL ORANGE DS PREMIUM SOLVENT BOOSTER, SPOTTER AND DEODORIZER IS THE BUST BUY IN THE INDUSTRY. NOT ONLY WILL YOU CUT MORE GREASE AND SOIL BUT IT WILL ALSO LEAVE A FRESH CITRUS FRAGRANCE BEHIND! PURE TEC GRADE D'LIMONENE NATURAL ORANGE DS IS ALSO GREAT FOR THE FOLLOWING: ADHESIVE REMOVER, INK REMOVER AND GENERAL DEGREASING. 100% BIODEGRADABLE NATURAL ORANGE DS CITRUS SOLVENT IS A MUST FOR ANY CLEANING CONTRACTOR!
Natural and biodegradable.
Carpet pre-spray boost use: For injection sprayers dilute 4 - 6 oz. per 5 quarts. For pump/electric sprayers dilute 1 oz. per gallon.
For hard surface adhesive removal: Dilute 12 - 64 oz. per gallon. Allow 5 - 10 minutes of dwell time. Mop up or extract emulsified adhesive as necessary.
For ink removal: Use at full strength.
For general degreasing: Dilute 1 - 12 oz. per gallon.