Homerun (Gallon) by Newline | Premium Acid Tile and Grout Cleaner
HI-HR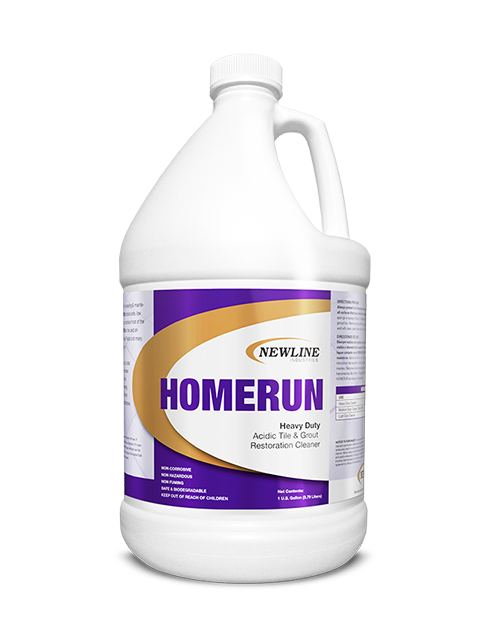 HOMERUN | Acid Tile and Grout Cleaner
HOMERUN is a revolutionary product for ceramic tile and grout. It contains safe, low pH cleaning agents that will allow replacement of the acids you are currently using. HOMERUN can be used on porcelain, ceramic tile, grout, concrete, plastic and many other surfaces that acids destroy. HOMERUN will also remove soap scum, hard water deposits and effloresence on porcelain, ceramic and quarry tile.
Homerun removes soap scum, light grease, hard water deposits, post installation grout haze while restoring tile and grout. It is especially effective on removing efflorescence. Homerun can be used and will etch concrete, brick, marble, terrazzo, and limestone.
• Non-Fuming
• Non-Corrosive
• Non-Hazardous
• Safe & Biodegradable
Directions for use: Dilute 32 oz. per gallon for heavy duty cleaning. Dilute 16 oz. per gallon for medium duty cleaning or spray refilling. Dilute 4 oz. per gallon for light duty cleaning. Apply solution with a clean mop, sponge or sprayer. Allow 5 minutes of dwell time. Agitate with a sponge, brush, floor machine or grout tool. Remove dirty solution with a sponge, wet/dry vacuum or damp mop. Rinse well with clean water and let dry.
CAUTION: Do not allow solution to dry on surfaces before rinsing and extracting.
pH: 1